HBO's Running with Beto is a Study in Ditching Your Family
Study Hall's Chris Thomas looks at how the documentary works less as a tale of electoral politics than as a meditation on what it means to leave your family in the dust in pursuit of your (highly unrealistic and potentially selfish) dreams.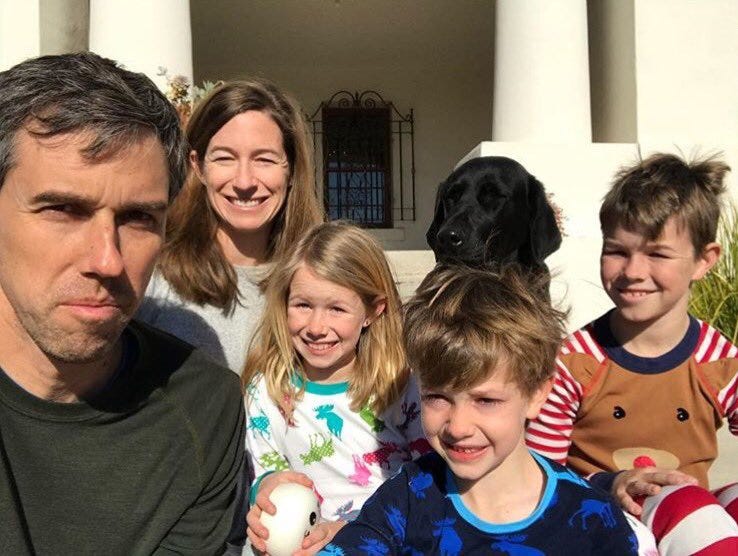 Life is like a box of chocolates...you never know what you're gonna get. Sometimes, you win a position on the Senate; sometimes you lose the race by 214,921 votes. At least for Texas almost-senator Robert Francis "Beto" O'Rourke, he got a shiny documentary film out of it: HBO Films' Running with Beto. Jogging through all 254 Texas counties and inspiring a legion of fans, Beto became the Lone Star state's all-American, modern Forrest Gump. Swap out Tom Hanks, add a penchant for punk rock, swear words, and "winging it" in campaign speeches, and you've got one very white, straight-male-appeasing political underdog film.
Before we get to the "skateboarding outside of a Whataburger" antics that Beto engaged in, it's necessary to talk about the overwhelming whiteness of how this film came together. Born out of a fateful sandlot baseball game in 2017 (as all good white straight male things are, I assume), the film's director David Modigliani was playing with his team, the Texas Playboys (yes, really), and met Beto, who'd just declared his run for the Senate. Modigliani had previously made Crawford, about a small Texas town during the Bush presidency, and was in search of a "story that might rehumanize politics in some way or make it feel approachable."
Beto, with his vaguely handsome looks and penchant for The Clash, is the paragon of approachability in the context of the overwhelmingly white state of Texas. Sure, there were other inspiring candidates running campaigns around the country, but focusing on African-American underdogs like Stacey Abrams in Georgia or Andrew Gillum in Florida was going to be a stretch when someone as palatable to white people was running to turn Texas blue. With Modigliani's political underdog tale set, he recruited the help of political bro-pack Jon Favreau, Jon Lovett, and Tommy Vietor (AKA "the Pod Save America guys") to co-executive-produce the doc and put his HBO funding to good work.
Alongside all of Beto's live-streaming and swear-word-infused road trips, the film includes big-budget, floating infographics charting the Rise of Beto. Superimposed headlines about the race cast shadows over beautiful vistas and cityscapes as Modigliani follows the political wunderkind's race against Ted Cruz. In case you didn't have a pulse or an internet connection in 2018, here's what you missed: Beto drove a lot, showed people his laundry, did a 24-hour marathon livestream, had a viral speech about kneeling during the National Anthem, and got a haircut. These days he doesn't make quite so many headlines.
The film captures a cultural, maybe more so than political moment — but like the characters of one of his favorite books, Homer's The Odyssey, it's best to look at Beto more as a character on a grand adventure and leave it at that. The most fascinating thing about Running With Beto is the story of what it means to run for higher office. Ironically, it has nothing to do with him and has everything to do with the people he leaves behind, especially in the context of a trifecta of illuminating snapshots of this same journey. Preceding Running were Netflix's Knock Down the House, which provided insight into Alexandria Ocasio-Cortez and the longshot Congressional races of three other women, and last year's Michelle Obama memoir, Becoming.
Put together, they provide an essential insight into the toll that running for political office has on the loved ones in the candidate's orbit. There's a scene in the second part of Running With Beto that happens as his campaign has reached viral status. As he's running across the state and making appearances on late-night talk shows and Ellen, the scene cuts to his kids writing their superstar dad letters because he simply doesn't have the time to regularly talk to them while he's on the road.
The film builds up an unintentional(?) narrative of Beto as a bad dad; one who should be at home helping his wife with the kids instead of going for longshot campaigns. But it's a shaky narrative, especially in the context of American history, where heteronormative gender roles have reigned supreme and the act of running for political office has largely been the domain of white men. Of the 12,343 total members of Congress in American history, only 162 African Americans, 63 Asian and Pacific Islanders, 128 Hispanic Americans, and 127 women have held office — with 100 of those women elected in the last 30 years.
That's a huge disparity on its own but when considered in terms of the loved ones that they left behind, it's not hard to imagine a history of repeating scenes like those of Beto's wife and kids pouring their anguish over his absence into letter-writing. Sure, Beto didn't exactly help the narrative of being a bad dad by jokingly saying that he "sometimes" helps with the kids (or his whole "I was born to be in it" snafu), but his comments aren't some Beto-specific problem. They're steeped in an American political tradition that is only just beginning to be chipped away.
For much of Becoming, Michelle describes how she felt as a wife with a career, two kids, and a husband who was busy running for office or working in the government. She is resentful and for a while, can't grasp why Barack would want to sacrifice having a close-knit family to fulfill the call to become a cog in the political machine. But eventually, after settling into this new reality, she writes something that stuck with me as I sat through Running With Beto and even Knock Down the House. "Though we'd argued over the drain of his political career on our family for years now, I did love and trust Barack," she says of his Senate run. "He was already a man with two families, his attention divided between me and the girls and his 200,000 or so South Side constituents. Would sharing him with the state of Illinois really be all that different?"
It's this question that extends into every political campaign but gains an essential insight with Knock Down the House, one of the rare political documentaries to focus not only on women running for Congress but on women whose family life didn't factor into their narrative. Alongside Alexandria Ocasio-Cortez's big New York upset victory, the film honed in on the campaigns of Amy Vilela of Nevada, Cori Bush of Missouri, and Paula Jean Swearengin of West Virginia. As geographically and ideologically different as these women were, a common thread pulling the film together was the same one that Michelle Obama brings up in Becoming. These four women may have families back home, but their supporters and (possibly) their future constituents occupy just as much importance in their lives at this moment. In many ways, it's the antithesis of Running With Beto. While Beto rides the patriarchal, privileged wave of being a man running for what's largely been a man's job, these four women are fighting to be taken seriously as both candidates and as women. In one pivotal scene, AOC stands at her mirror and talks about the Mt. Everest-sized amount of effort they have to put into their appearance every day, while men can simply roll up their sleeves — ironically a look Beto has perfected.
It's hard not to feel a twinge of judgment watching Running With Beto after seeing the colossal effort women were putting into their image and campaigns in the same election cycle in Knock Down the House. Especially when Running's most fascinating character studies happened far away from the candidate's swear-heavy stump speeches. That could almost be written off as a product of the times but, when other strong films and books exist about running for office and offer a more complete portrait of the toll of that decision, it points to a deeper flaw in the directorial gaze.
There has always been an outsized focus on a candidates' mythical quests to Capitol Hill, but I couldn't help leaving Running With Beto with the sense that his wife and kids were reduced to an obstacle on the way to the glory of higher office. The film is a snapshot of a media darling-in-the-making who never quite crossed the finish line, but I hope its legacy extends beyond that. There are a lot of positive lessons to be learned about grassroots campaigning and hope and all of that but more than anything, the 93-minutes, Running With Beto unintentionally acts as a time capsule to an outdated tradition of men's privilege to put on their running shoes and join the race for higher office, while leaving their families in the dust.